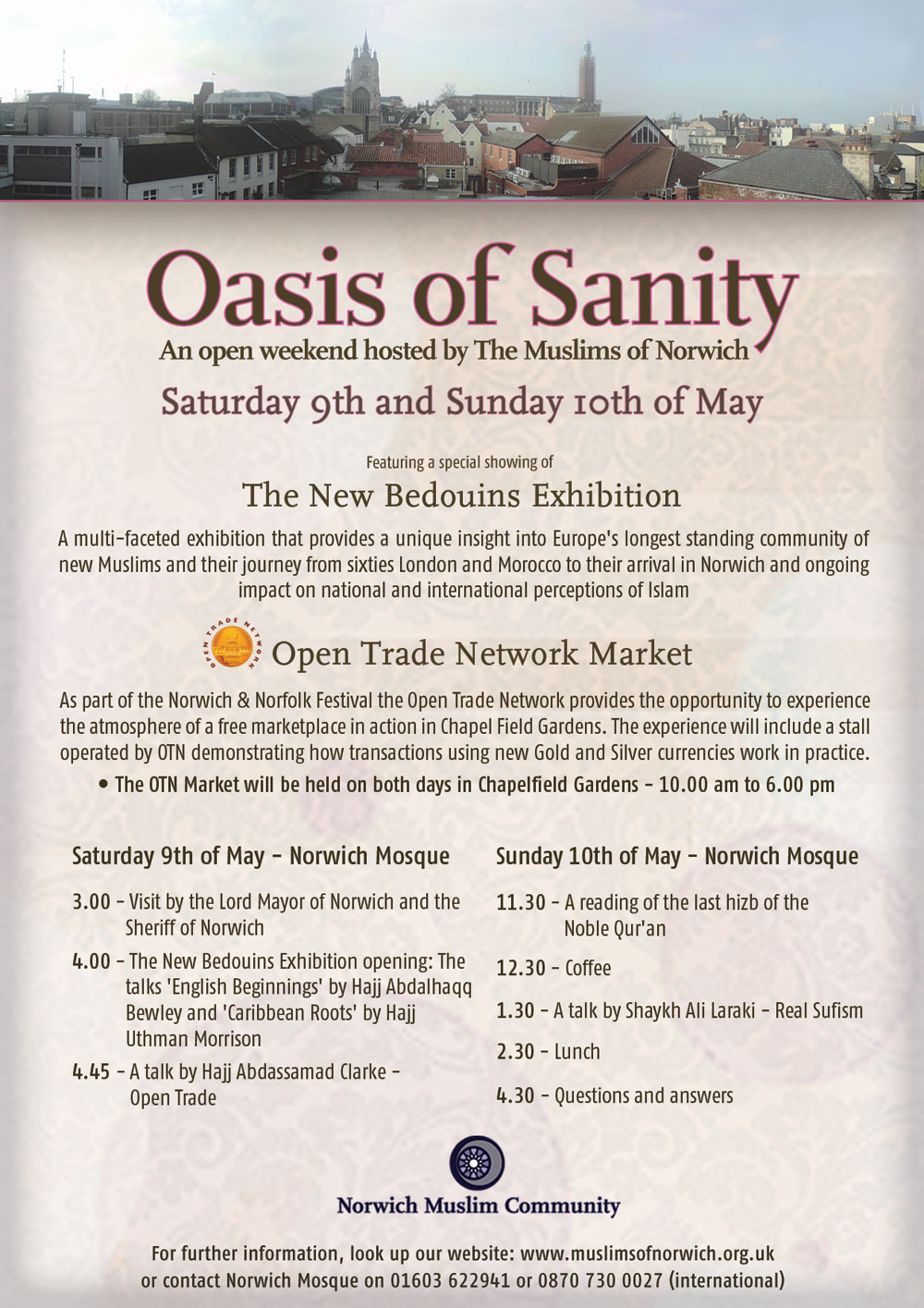 Click on poster for a larger image.
Saturday 9th and Sunday 10th of May
Location: Chapelfield Mosque and Chapelfield Gardens, Norwich

Featuring:
The New Bedouins Exhibition
Open Trade Network Market
Talks and events in Chapelfield Mosque
The New Bedouins Exhibition. Chapelfield Mosque
The Society of Islam in England presents a multi-faceted exhibition that provides a unique insight into Europe's longest standing community of new Muslims and their journey from sixties London and Morocco to their arrival in Norwich and ongoing impact on national and international perceptions of Islam
Open Trade Network Market. Chapelfield Gardens
As part of the Norwich & Norfolk Festival the Open Trade Network provides the opportunity to experience the atmosphere of a free marketplace in action in Chapel Field Gardens. The experience will include a stall operated by OTN demonstrating how transactions using new Gold and Silver currencies work in practice.
The OTN Market will be held on both days in Chapelfield Gardens – 10.00 am to 6.00 pm
Event details:
Saturday 9th of May – Norwich Mosque
3.00 – Visit by the Lord Mayor of Norwich and the Sheriff of Norwich
4.00 – The New Bedouins Exhibition opening: The talks 'English Beginnings' by Hajj Abdalhaqq Bewley and 'Caribbean Roots' by Hajj Uthman Morrison
4.45 – A talk by Hajj Abdassamad Clarke – Open Trade
Sunday 10th of May – Norwich Mosque
11.30 – A reading of the last hizb of the Noble Qur'an
12.30 – Coffee
1.30 – A talk by Shaykh Ali Laraki – Real Sufism
2.30 – Lunch
4.30 – Questions and answers
This is a free event open to all
For further information please send a message to Khalil C Mitchell on Facebook, or
look up the Muslims of Norwich website: www.muslimsofnorwich.org.uk or contact Norwich Mosque on 01603 622941 or 0870 730 0027 (international)